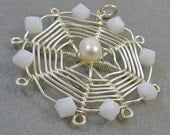 Sterling and Crystal Web Pendant. Sterling silver wire has been used to create this "Spider's Web" shaped pendant - although without the spider because I must admit I hate them! Instead, each outer edge of the pendant incorporates a White Alabaster Swarovski Crystal, glistening like a morning dew drop, with a natural coloured Fresh Water Pearl at the centre of the web.
The wires were hamm...
Click Here to Visit My Etsy Shop!